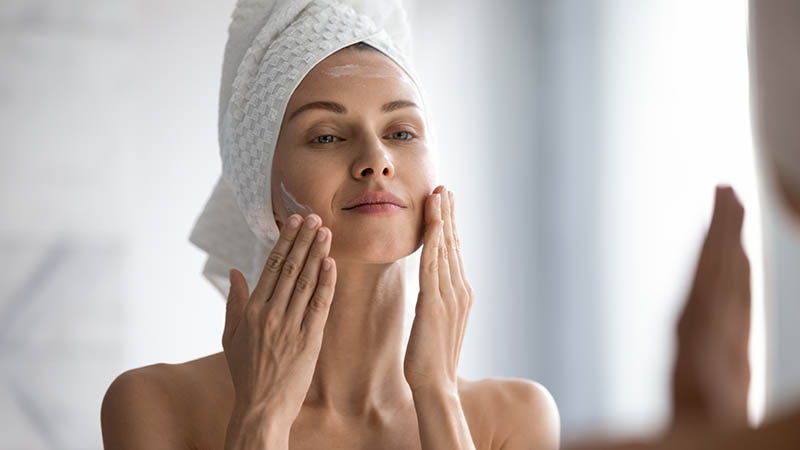 Achieving good skin doesn't happen overnight or with one treatment; it happens with a proper regimen and consistency.
Here at Richland Aesthetics, we offer two of the leading pharmaceutical skincare lines in the industry: ZO Skin Health and SkinCeuticals. Both lines are backed by science to work and give you long-term results. It ultimately comes down to, "what products do you need for an effective skincare routine?" With my years of experience, I've found that a simple routine is all you need for optimal skin health. Key products you need are a good cleanser, a form of exfoliation, and sun protection.
---
Choosing the Right Cleanser
When it comes to choosing the right type of cleanser, go with what your skin type is. When starting your cleansing routine, it is important to double cleanse. That is the way to truly remove the day's oils, debris, and makeup. In the office, I start with SkinCeuticals Gentle Cream Cleanser as my first cleanse to remove surface debris. For the second cleanse, I go in with ZO Gentle Cleanser, as the foaming lather can work into your pores deeper now that the surface has been pre-cleansed. With skincare constantly evolving, most cleansers in today's market are PH-balanced and do not need to be followed up with a toner.
Pro tip: Cleanse for 60 seconds to effectively clean your face.
---
Exfoliation
After cleansing, most people would think that a serum would be the next important step, but exfoliation is. I don't want to discredit the many benefits of corrective serums, but exfoliation is a step that I find gets overlooked.
There are many ways to exfoliate the skin. It can be done mechanically or with the use of chemicals that help remove the top layer of skin.
---
Dermaplaning
A popular service we provide at Richland Aesthetics is Dermaplaning, which is a form of mechanical exfoliation. This treatment uses a surgical blade and handle to remove 3 to 4 weeks of dead skin on the surface. As a bonus, it also removes "peach fuzz" (facial vellus hair).
---
Chemical Exfoliation
Chemical Exfoliation is done with mild acids, like lactic acid or glycolic acid, that help break up the bond between the skin's cells. Salicylic acid can also be used, though it is not strong and falls under a separate acid category.
Retinol is neither a chemical nor a manual way to exfoliate. It is a vitamin that helps stimulate new skin cell growth while increasing collagen production, causing the old skin to peel off. This can be thought to be another way of exfoliation. Perhaps the best anti-aging method for renewing the skin's surface!
---
Sunscreen and Sun Protection
In wrapping up our discussion of the top products to have, we must remember sun protection. The use of sunscreens is critical for all skin routines. Sun protection has so many benefits since the sun is the number one cause of aging. The key to preventing premature aging is to reapply sunscreens after two hours, as it protects against the sun and other environmental factors.
In summary, these are the top three things to have and use in your skincare routine: a good cleanser, a form of exfoliation, and SPF. These will be your ultimate trio for aging gracefully.